Mondays during term time 9.30-10.30am

All photos taken and published with the kind permission of parents.
Music Mayhem is the pre-school section of plfc's youth work.
It's a great time to come along and catch up with friends whilst the children can enjoy playing and singing together.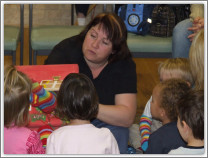 Our session starts at 9.30am. We have a 30 minute singing time including a "hello song", some action songs, musical instrument songs, Sockeroo the sock puppet makes an appearance to choose a song, parachute songs and we finish with a quiet song and the music mayhem "goodbye song."
Each child receives his or her own Sockeroo sock puppet on their first birthday with us.
From 10.00-10.30am we have a refreshments time and play time for the children.
We have 20+ parents who attend with their preschool children.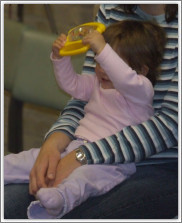 Our high lights of the year are our Nativity, when the children come dressed as shepherds or angels and we tell the true story of the birth of Jesus; and our Easter story, when we tell the true story of the death and resurrection of Jesus.
Anyone is welcome to come, the sessions are free and are held in the hall of the church extension.
The dates of meetings for the next six months are given below (any changes will be shown here).
SORRY BUT ALL MEETINGS HAVE BEEN CANCELLED AT THIS TIME DUE TO THE RISK FROM CORONAVIRUS
For your peace of mind: All leaders of the Music Mayhem group, as with any other plfc youth activities, have had a CRB check performed on them by the church and have attended and passed our own Child Protection Course modelled on the materials supplied by CCPAS (Churches' Child Protection Advisory Service). All Music Mayhem workers adhere to a strict set of procedures as laid down in our Child Protection Policy which has been approved by, and is registered with, CCPAS. A copy of this policy can be viewed at the church.